Changing Customer Preferences and Retail Pharmacy Dynamics Compel New Medication Adherence Initiatives
By Terrence O'Neill | Posted on April 25, 2023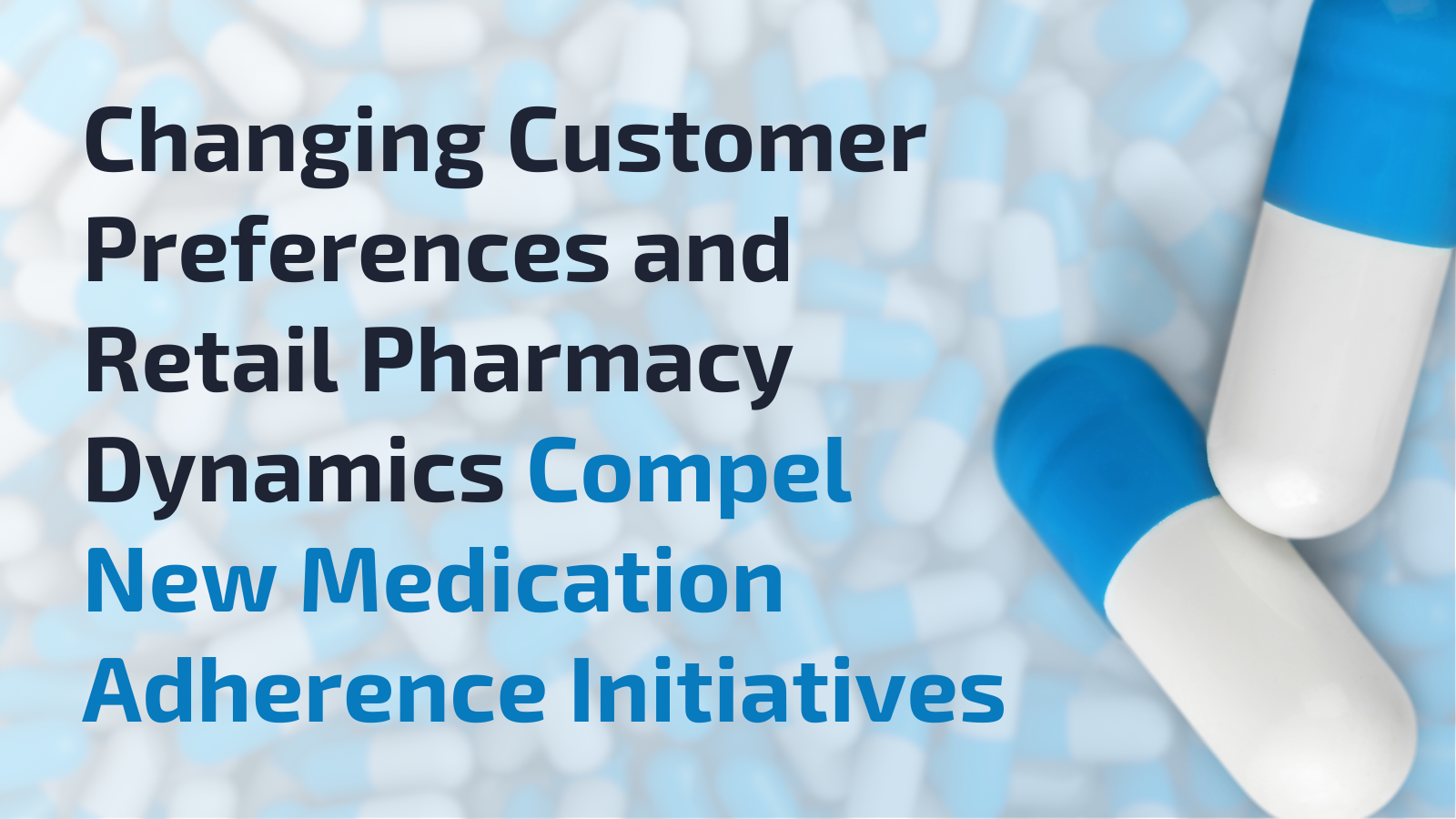 The retail pharmacy market is experiencing extraordinary changes in consumer preferences and market dynamics. For example, the surge in e-commerce is altering how pharmacies serve their consumers. Plus, the market entry of Amazon, coupled with rising pharmacy dispensing costs, is putting extreme pressure on retail pharmacies stuck in the middle. Effectively competing in this changing market necessitates implementing new technologies and strategies for packaging and dispensing medications that create new customer experiences, offer convenience/choice, and generate benefits for multiple healthcare stakeholders.
ePharmacies on the Rise
The global pandemic transformed consumers' buying processes. Risks associated with visiting brick-and-mortar stores caused consumers to pivot to online purchasing for all their needs and desires, including medication. Even consumers who, before the pandemic, might not have shopped online after experiencing the convenience of home delivery are sticking with it. Consumers enjoy the ease, availability, often lower prices, and easy access, even from rural areas, that pharmaceutical eCommerce delivers.
According to Precedence Research, the global market for ePharmacies is anticipated to rise considerably through 2030, which predicts that the market will increase from $59.93 billion in 2021 to $256 billion by 2030.
Mobile Apps Fuel Prescription Refills
Another ingredient of the eCommerce pharmacy surge is the use of mobile apps for ordering medications. Mobile apps provide unprecedented ease and accessibility for online shopping. A J. D. Power study reports that 59% of pharmacy mobile app users use an app to manage prescription refills, and 57% use an app to view prescriptions. Consumers love the ease of mobile apps. But while these applications help consumers acquire medications, few help with adherence beyond automatic refills or medication synchronization.
Patients Expect Engagements on Their Terms
Across the healthcare continuum, patients expect their experiences to resemble their other consumer retail journeys. The penetration of smart devices is fueling eCommerce growth. The Mobile Economy 2020 projects smartphone usage to increase to 80% by 2025.
Most customers expect companies to accelerate digital engagement because of COVID-19. Additionally, reports indicate that 40% of consumers won't do business with a company if they can't do it via their preferred channel. In addition, 58% of consumers expect to do more business online after the pandemic than before.
Amazon Effect
Amazon has been a market disrupter since its inception, and its expansion into pharmacy is no exception. The company has taken a phased approach in its foray into the prescription drug market. Starting with its acquisition in 2018 of online mail-order pharmacy PillPack for nearly $1 billion.
More recently, it rolled out Amazon Clinic (2022) virtual health care service, One Medical (2023) 200 brick-and-mortar physician offices, and RXPass (2023), which allows Amazon Prime members to fill as many prescriptions as they need for a flat monthly fee, including free home delivery. The prescription program covers a range of generic drugs that cover common conditions such as allergies, diabetes, high blood pressure, kidney disease, and migraines. Amazon's 200 million Prime subscribers give Amazon Clinic, One Medical, and RXPass a vast consumer reach.
Rising Pharmacy Costs
The costs of operating a pharmacy continue to rise. In 2020, an NACDS-commissioned study estimated the average cost of dispensing medications at $12.40. Payroll costs were the biggest drivers of the overall cost, accounting for roughly 58% of dispensing costs. Like most industries, pharmacy is experiencing a labor shortage, and the industry is reacting. For example, to encourage workers to join its labor force and retain current staff, Walmart recently said it increased the average pay of its pharmacy workers to over $20 per hour and promised to offer more frequent and automatic pay raises. Walmart and CVS have also cut pharmacy hours because of staffing challenges.
With the population aging, chronic diseases are more prevalent in the total population. This is increasing the number of prescription transactions, along with the introduction of new medications, some replacing existing treatments and others treating conditions where no treatment was previously available, is increasing the complexity and stress on the pharmacy.
Medication Adherence Issues Persist
While drug discovery has made dramatic strides in treatments, adherence to those medications remains a compelling healthcare issue. Nature Magazine reports that the benefits of a drug seemingly affords in a highly controlled setting will not translate to real-world use if patients do not take their medications as prescribed. Poor medication adherence is the most common reason for the disparities in clinical trials and is experienced through the lifecycle of the drug impacting real-world patient outcomes in the US is responsible for approximately 125,000 deaths per year.
To keep up with these changing market dynamics and customer preferences, pharmacies must implement new technologies to offer competitive solutions for improving consumer experiences that affect refilling prescriptions and facilitating medication adherence. Competing only on price has been a race to the bottom, ruining many markets. Adherence programs that leverage packaging integrated with SMART applications offer the opportunity to simplify, add value, and differentiate consumer experiences throughout the healthcare journey.
Subscribe to Our blog
Sign Up For Our E-Newsletter