Six Factors to Ensure Preparedness for the DSCSA Final Stages
By Andre Caprio | Posted on May 9, 2023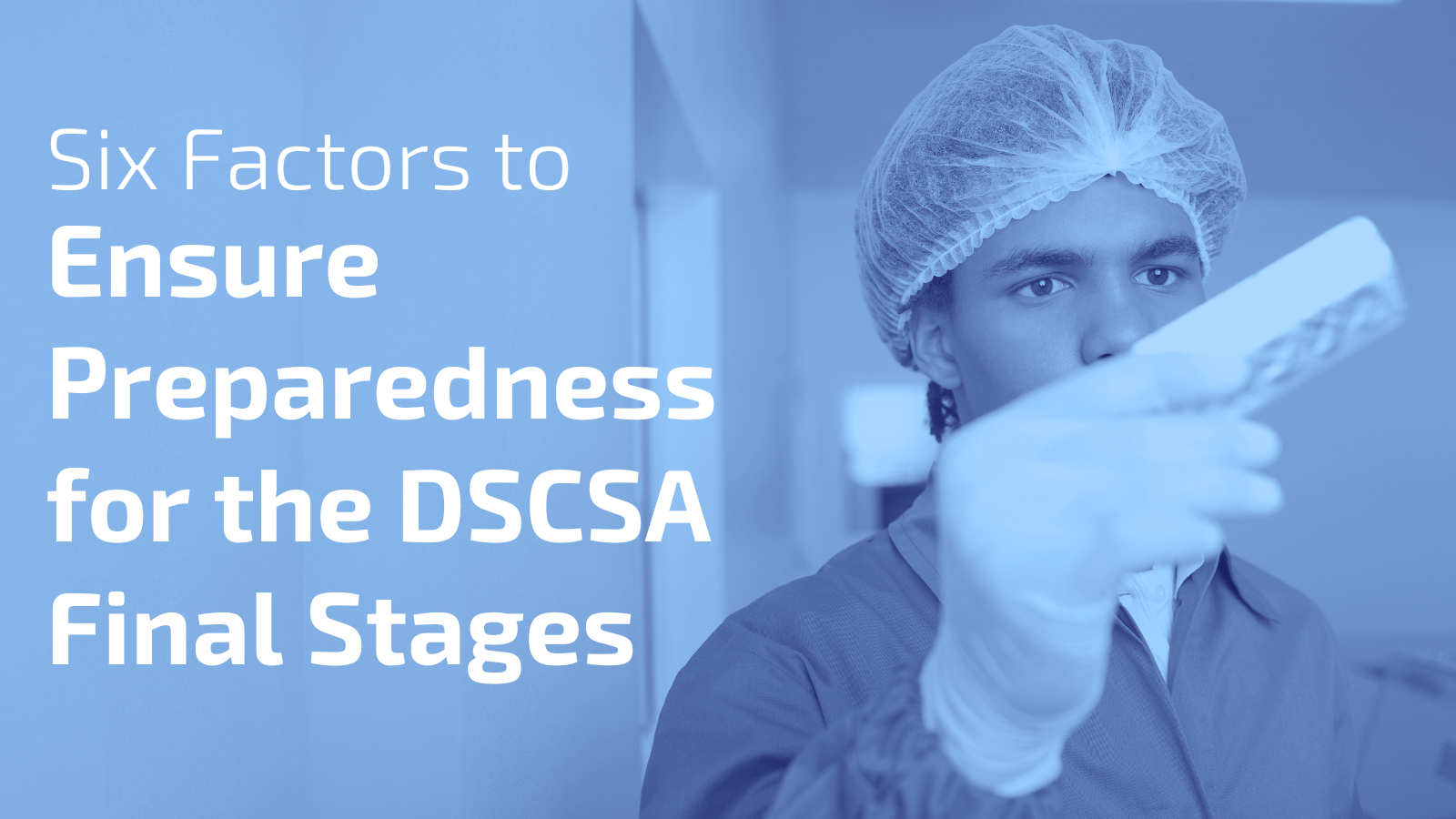 It has been nearly a decade since Congress enacted the Drug Supply Chain Security Act (DSCSA). The legislation aims to improve patient safety and protect consumers from being exposed to dangerous drugs, including counterfeits, diverted, stolen, and contaminated products, as well as facilitate how the industry manages and executes the drug recall process. DSCSA compliance also serves as a defense against intentional efforts by organized crime and state sponsors to monetize, sow chaos, and cause harm by attacking the supply chain.
The COVID-19 pandemic, resulting in supply chain disruptions, and the industry's necessary attention on vaccine development and distribution caused delays in DSCSA compliance efforts. However, no further postponements are expected, and we have now hit the final stage of DSCSA implementation, as full compliance and interoperability are set for November 27th, 2023. So being prepared is of utmost importance at this point. Several factors must be considered to ensure a successful implementation of serialization and traceability.
Make Sure You Have Quality Data
Ensuring that your data is of high quality is critical. Unfortunately, there have been instances where compliance testing results revealed bad data from faulty barcodes. Several years ago, the FDA ran a series of pilot studies to assess the impacts of having stakeholders verify the authenticity of a pharmaceutical product by scanning its unique data matrix barcode and authenticating it against the manufacturer-hosted serialization database. As part of the process, once a product was scanned, the manufacturer's system would provide a positive or negative result based on the unique information embedded in the product's data matrix.
The results of the pilot studies uncovered a high percentage of authentic products (upwards of 25%) returning a negative confirmation, which puzzled many manufacturers. After a detailed examination of the embedded data contained in the faulty
barcodes, the most common issues included the wrong placement of comma separators, use of double zeroes for lot and expiration dates, and bad EPCIS formatting (syntax errors) among other technical issues. Another identified issue has been with printing. Sometimes the data matrix is too small or smudged.
Aggregation Capability Is A Must As Serialization Now Extends To The Case And Pallet
The final phase of DSCSA compliance requires serialization to be extended from the unit of sale to the case and pallet, including the aggregation of the serial numbers at each level. This is necessary as items are not passed through the supply chain as a saleable unit. Rather, many individual containers are packaged in a case and placed onto pallets. With serialization at the case and pallet level, it is easier for supply chain partners to identify what is inside a carton or pallet by examining the code on the package's exterior instead of opening a case to check the serial number on the pack-level product.
While many manufacturers have made progress on data aggregation, some still need to catch up as without this aggregation and the required data collection and reporting, organizations will not be compliant with the DSCSA law. In addition, some manufacturers have contracted with service providers who have instituted upcharges for aggregation capabilities which has proven costly and delayed aggregation, which is a prerequisite for sending serialized data.
Testing Of EPCIS Data Transmission With Key Trading Partners
DSCSA requires data for pharmaceutical products to be shared among trading partners as the product changes ownership during its lifecycle in the supply chain. In the US and many other nations, the pharmaceutical industry has adopted EPCIS standards for automatic data communication amongst partners in the supply chain.
To successfully meet the November 27th, 2023, deadline, trading partners and solutions providers must collaborate to verify that the EPCIS data can successfully be passed and, if necessary, modified, and shared due to routine supply chain procedures such as breaking down pallets for order fulfillment.
Even with guidelines, file formats for sharing data can vary from company to company, making it critical that manufacturers test connections with all trading partners to confirm interoperability. In addition, extensive testing is required to ensure files are properly structured, and all errors are corrected before pushing to production. Plus, working around the availability of all trading partners can be time-consuming and take effort. As a result, the integration process for EPCIS interoperability may take weeks or even months.
Also, some large wholesale distributors work with hundreds of partners and must test every connection. So, suppose a manufacturer is not ready for testing when the wholesale distributor requests testing. In that case, they will have to wait to test until the wholesale distributor can reschedule their testing creating even further delays.
Troubleshooting
Issues found with faulty barcodes, the aggregational process, and interoperability testing all must be resolved. Consequently, having time and resources for troubleshooting problems is critical. For example, if there is an issue with an EPCIS file being generated by a serialization system in L5, it might be necessary to go back and fix various segments. Additionally, that file might integrate with an ERP system, so changes may affect the ERP system. All of those adjustments take time to fix and retest.
Answering FDA Audit Requests
With every regulation comes audits from regulators to ensure compliance. Manufacturers have 24 hours to respond to the auditor. Therefore, developing a tactical plan for a timely response to FDA audit requests is necessary. The plan should include a list of the regulation's requirements, documentation of all systems and procedures on how you address each, and who is responsible for answering questions. That way, clear and concise responses can be compiled swiftly, and necessary documents and records can be quickly accessed. In addition, running a mock trial of how the team will respond will help mitigate stress.
Assessing Renewels
At this point, most pharmaceutical manufacturers are well into their DSCSA journey. However, some organizations find its serialization system is underperforming. Others have discovered that their systems do not scale as needed, their cost of ownership is too high, or the service provider's overall customer service is disappointing. As a result, they are determining whether to retain their current service or seek help for serialization from another service provider.
Manufacturers looking for alternatives should research alternative pharma serialization providers and draft a plan of action to ensure a seamless transition from one provider to another. Service providers are available that offer high-performance, scalable, serialization solutions that are cost-effective and provide excellent customer service.
Subscribe to Our blog
Sign Up For Our E-Newsletter