Seven Steps Wholesale Distributors Need to Take for DSCSA Compliance
By Andre Caprio | Posted on July 12, 2023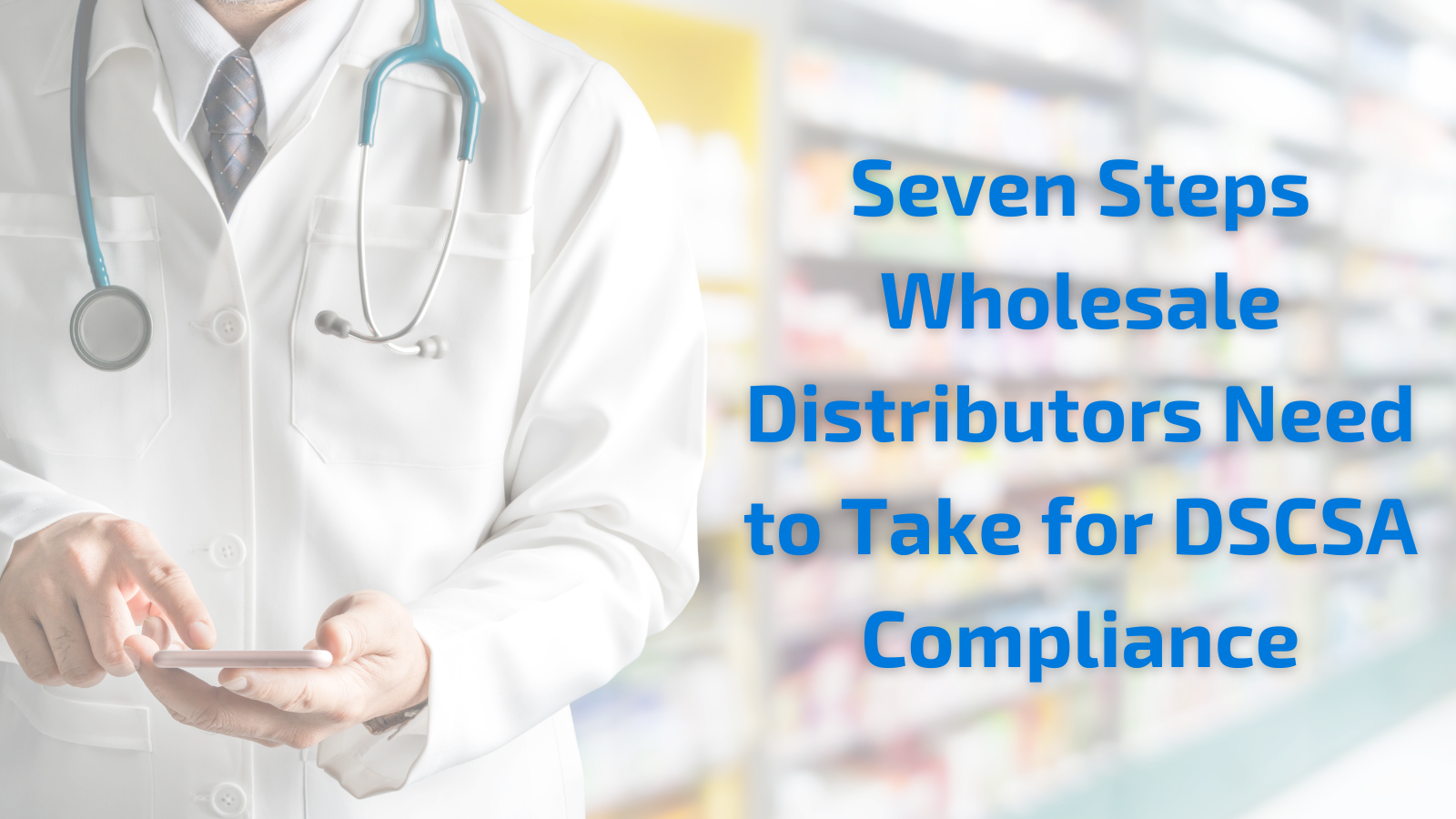 As we head to the final leg of Drug Supply Chain Security Act (DSCSA) compliance, ensuring readiness across the pharma supply chain is critical. Managing DSCSA serialization requirements is essential to improving patient safety.
Here are seven steps wholesale distributors can take to meet the upcoming November deadline for DSCSA compliance to improve patient safety.
Ensure a Viable Solution that Handles EPCIS Data Format
The requirement for the November 2023 DSCSA deadline is for all companies in the pharma supply chain to be able to transmit Advanced Shipping Notices (ASN) with serial numbers of pharmaceutical products back and forth in EPCIS format. While transmitting ASN through EDI 856 was a requirement for the initial milestone of DSCSA, these systems cannot accommodate serial numbers and therefore are insufficient for the final phase of DSCSA. Wholesale distributors must ensure that their L5 serialization systems can exchange serialized product data via EPCIS rather than the outdated EDI 856, as those archaic systems cannot manage EPCIS data.
By confirming with their solutions providers that their L5 system can manage EPCIS and serialization data, wholesale distributors will know they have a viable solution for DSCSA compliance.
Create a Strategy for Testing with Key Suppliers
For the most part, wholesaler distributors have been ahead of the game on DSCSA and have been waiting for manufacturers to conduct EPCIS data testing. Generally, manufacturers have yet to be ready to test. So, now that it is crunch time, wholesale distributors need to create a strategy for testing with their suppliers. The best plan is a phased testing approach that starts with primary suppliers. First, wholesale distributors must classify their primary and secondary suppliers. For example, while they may buy from ten manufacturers, they should identify the suppliers that represent the largest percentage of either purchase volume or value and rank them as primaries.
The first phase of testing should focus on primary suppliers. The distributor must orchestrate a testing schedule with respective primary manufacturing partners. Once the supplier says they are ready for testing, confirmation must be made that they are equipped to transmit serialization data and have the resources available to test the ability to absorb, receive, and parse EPCIS data and confirm it is correct.
For the second phase, distributors conduct testing with their secondary manufacturers. This strategy will ensure DSCSA readiness on the bulk of wholesale distributors' purchases and value of products.
Assess Downstream Trading Partner Capabilities
Wholesale distributors must work with their downstream trading partners, including pharmacies, doctors' offices, and hospitals, to understand their serialization capabilities. It is necessary to determine whether their trading partners have contracted with a serialization provider or if they plan to rely on the wholesale distributor to store serialized data.
The same determination must be made for any smaller wholesalers that the wholesale distributor sells to, as an exchange of serialization data must happen between parties to ensure all pharmaceutical product transactions can be tracked and traced throughout the supply chain.
For downstream partners that have yet to contract with a serialization provider, wholesale distributors need to develop a plan for transmitting EPCIS data with those partners. Wholesale distributors must ensure that their L5 serialization solution offers a web portal that all downstream partners can access. The portal capabilities will provide a means for trading partners to log in and retrieve serialized information in the case of an FDA audit.
is not ready, they need a plan of how they are going to transmit that data – If the L5 solutions providers offers a portal – with a login where pharmacy or other downstream partners can log in and retrieve that information that maybe a temporary solution, So if there is an audit that trading partner will rely on wholes sale solution to access and retrieve the serialization transaction data can. Plan in place to transmit data downstream or host that data for their respective downstream partners.
Trading Partner Portal Solution for Pharmacies
While most hospitals and chain drugstores have contracted a serialization provider, the majority of independent drugstores have not, and many have limited knowledge on DSCSA compliance. An HDA survey reported that 80% of independent pharmacies plan on relying on their wholesale distributors' portal to store and retrieve serialized data on purchases with that supplier.
To fulfill that need, wholesale distributors must offer their downstream trading partners access to a web portal to retrieve serialization data in case of an FDA audit. If pharmacy is every audited for DSCSA purposes, they need to be able to log in to a portal and retrieve serialization data from the wholesaler.
Confirm that Scanning Hardware is Up to Date
Barcode scanners are a significant required piece of equipment for DCSAA compliance. They are used every time a pharmaceutical product is shipped from the wholesale distributor's warehouse or received in the warehouse to reconcile products, ensuring data in the L5 systems matches the data on the physical product.
Basic handheld scanners that can only scan just linear barcodes rather than two dimensions (2D) barcodes are still prevalent across the industry. But these simple scanners cannot handle serialization data. Wholesale distributors must have up-to-date barcode scanners that work with their L5 solution. Serialization providers can guide distributors on which scanners to purchase, as there is a large variation in scanners from low-end hundred-dollar scanners to more complex scanners that cost up to $5,000. Use depends on how large warehouses are and whether fixed vs. mobile station areas are utilized. Ensuring proper 2D scanning equipment appropriate to their warehouse environment is essential for managing serialized data.
Deaggregation and Aggregation Capabilities Required to Serialization Case and Pallet
The final phase of DSCSA compliance requires serialization to be extended from the unit of sale to the case and pallet, including the aggregation of the serial numbers at each level. This is necessary as items are not passed through the supply chain as a saleable unit. Rather, many individual containers are packaged in a case and placed onto pallets. With serialization at the case and pallet level, it is easier for supply chain partners to identify what is inside a carton or pallet by examining the code on the package's exterior instead of opening a case to check the serial number on the pack-level product.
Distributors receive pallets of pharmaceutical products in cases. They often break down each pallet and repackage the units with other products and ship to their downstream partners. To ensure DSCSA compliance, distributors must be able to deaggregate the serialized data on the shipments they receive and aggregate serialized data on the loads they send out.
Some manufacturers have yet to master the aggregation process, therefore distributors must be sure that manufacturers have aggregated the serialized data on the shipments they receive. Only with deaggregation and aggregation capabilities can the required data collection and reporting occur for DSCSA compliance.
Integrate Serialization Solution with ERP System and Pharmacy Management System
Wholesale distributors use Enterprise Resource Planning systems to manage their business areas, including inventory, billing, customer records, etc. On the other hand, pharmacies utilize Pharmacy Management systems. To be most efficient, serialization systems should have integration capabilities with external systems such as a wholesale distributors' ERP system and a pharmacy's Pharmacy Management system. This integration ensures that serialized data flows to ERP and Pharmacy Management systems, respectively for a streamlined business workflow. Systems with open Application Programming Interfaces (API) allow for that integration. Without open APIs, integration can be timely and expensive.
Subscribe to Our blog
Sign Up For Our E-Newsletter